Email Bomber
The Email Bomber is a software that can easily send hundred of mails in just some minutes!
Screenshot: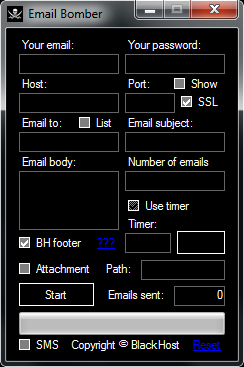 Features:
BlackHost footer
Clear all link
Customizable timer
Hosts list
Number of emails
SSL certificate
MD5-Checksum: 061f5b9d81451059e8b5cb55c63891e4
Download count: 8450
You can download* it from this link.
*=By clicking 'Download' you accept the Terms of Service.
Comments
Leave a feedback or read the others!
Older comments: page 1 2 3 4 5 6 7 8 9 10 11 12 13